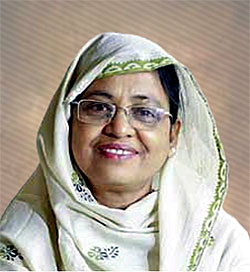 (Acting Managing Director, Duration : 12 May 2011- 14 Aug 2011)
Ms. Murjahan Begum was one of the earliest associates of Professor Muhammad Yunus during the establishment of Grameen Bank. She served as the Acting Managing Director of Grameen Bank soon after the bank's founder Professor Muhammad Yunus left the bank in 2011.She worked as General Manager, Administration, Training &International Program of Grameen Bank for more than a decade and served as Principal of the bank's Central Training Institute. She has also worked as consultant, trainer and evaluator of microcredit programs around the world.
Ms. Nujahan was awarded Susan M.Davis Lifetime Achievement Award 2008 by Grameen Foundation , World Summit Millennium Development Goals Award 2009, and Vision Award 2009.